Nursing home abuse can come in many different forms. It can be verbal, physical, sexual, and even psychological. Though you expect your loved one will be safe in their nursing home and well-cared for, the sad truth is that nursing home abuse and neglect happen more often than you would hope.
For this reason, it's important to understand what kinds of abuse your loved one could be subjected to and what signs to look out for that may indicate they are being abused. Nursing home residents are often vulnerable and they need others, like their family and friends, to advocate for them to keep them safe.
If you suspect your loved one is the victim of nursing home abuse, our team of Indiana nursing home abuse lawyers at Crossen Law Firm are here to help. We understand how difficult it can be to discover your loved one is being abused in their nursing home. Our goal is to provide compassionate service to help you through this trying time to protect your loved one's rights and ensure the appropriate parties are held accountable.
Common Nursing Home Abuse Injuries
While accidents can happen that lead to injuries, it is also possible that your loved one may be injured as a result of being abused in their nursing home. These injuries can be both physical and emotional, depending on the individual and the specific type of abuse they are being subjected to.
Physical nursing home abuse injuries can include:
Bruising
Genital trauma
Head trauma
Malnutrition
Infections
The injuries suffered can vary greatly depending on how your loved one is being abused. For example, broken bones and fractures might occur as a result of your loved one falling after being abandoned or neglected by their caregivers.
Psychological injuries, such as mental health issues and PTSD, can result from emotional abuse, which we will get into more below. It's important to understand that even though psychological injuries are not necessarily visible, they can still be just as damaging as physical injuries, if not more so in some cases.
Types of Abuse in Nursing Homes
Nursing home abuse is often the result of poorly managed nursing homes and negligent staff. For example, if a nursing home is understaffed, caregivers could be overworked, leading to them taking their frustrations out on the nursing home residents. A lack of proper training can also lead to negligent staff doing things that could be considered a form of abuse.
Unfortunately, some staff members might also abuse residents for their own gain because they are simply not good people, such as a staff member financially exploiting a resident to steal their money. No matter how or why the abuse happens, it is never okay, and the nursing home and the negligent staff member should be held accountable.
Below are the six primary forms of abuse that occur most often in nursing home settings: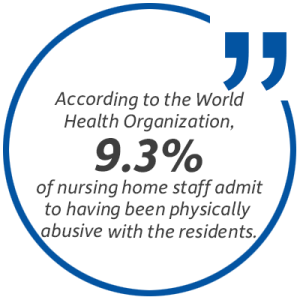 1. Physical Abuse
Physical abuse is one of the most obvious forms of abuse and typically results from nursing home staff being physically violent or aggressive with residents. According to the World Health Organization (WHO), 9.3% of nursing home staff admit to having been physically abusive with the residents — and those are simply the numbers from incidents that have been reported and that staff have admitted to. Likely, the actual percentage of residents who have been physically abused in nursing homes is much higher.
Examples of physical abuse in nursing homes can include hitting or kicking residents, using restraints inappropriately on residents, and grabbing and pulling on residents forcefully, such as when getting them out of bed.
2. Emotional Abuse
Emotional abuse is psychological and can be verbal or non-verbal. Unfortunately, this is among the highest reported forms of abuse in nursing homes. Data from WHO shows that 32.5% of nursing home staff admit to being emotionally abusive with their residents.
Examples of emotional abuse can include:
Yelling at residents
Harassing or ridiculing residents
Shaming residents
Purposely isolating residents from their family, friends, or other residents
Controlling a resident's activities against their will
Hiding personal belongings from residents
Being manipulative with residents
Threatening residents
3. Sexual Abuse
Sexual abuse is another serious problem in nursing home settings. Though it is the lowest reported form of abuse from WHO — 0.7% — more sexual abuse incidents likely happen than are reported.
Learning that your loved one has been sexually abused can be devastating and it can be physically and emotionally traumatizing for the victim as well. Examples of sexual abuse in nursing homes can include non-consensual touching, taking sexually explicit photos of residents, exposing oneself to a resident, and even rape.
4. Neglect
Nursing home neglect happens when staff fails to provide proper care to residents, especially concerning their basic needs. Statistics show that 12% of staff admit to neglecting nursing home residents.
Neglect can be both intentional and unintentional. For example, if a nursing home is poorly managed and understaffed, a resident might be neglected because there are not enough staff members to adequately manage all of the residents. In contrast, a staff member might also purposely choose to neglect a resident as a way of abusing their power over the resident or as a form of punishment.
Examples of neglect can include:
Not giving residents their medications or giving them the wrong medication or the wrong dose
Not taking care of a resident's hygiene needs, such as helping them bathe, changing their clothes, and changing their bed linens
Not providing residents with enough food or water
Ignoring a resident's complaints
Leaving residents unattended for extended periods
Failing to report a resident's issues/illnesses/injuries to management, doctors, and family
5. Abandonment
Abandonment is a form of neglect. This type of abuse occurs when nursing home caregivers leave residents alone to fend for themselves. Though this is an underreported issue, it is suspected that abandonment does occur in nursing homes and assisted living facilities.
Similar to neglect, when abandonment happens, residents often don't have their basic needs taken care of, such as getting enough food, water, and medication, and not having their hygiene needs met. Abandonment can happen when staff stop looking in on a patient altogether or when a facility or staff member intentionally removes the resident from the property and leaves them somewhere else without telling the resident's family members.
6. Financial Abuse
There are many different ways that nursing home residents can be financially abused or exploited. This includes staff members:
Stealing their money
Making changes to wills or power of attorney
Stealing their identity/credit card information
Stealing personal belongings
Taking ownership of a resident's personal property
Financial abuse is much harder to prove and recognize and often goes under-reported. So, this can be a particularly difficult form of abuse with which to deal. The best way to recognize if this form of abuse is occurring is to pay close attention to your loved one's accounts and records. If any suspicious changes are made to financial documents, or if any money goes missing, this could be a sign that someone in the nursing home is financially exploiting your loved one.
Signs That Your Loved One is Experiencing Nursing Home Abuse
The signs of nursing home abuse can vary just as the injuries can, as it depends on the specific type of abuse your loved one is experiencing. That said, there are a few general signs and behaviors to look out for that could indicate that abuse is occurring. These can include:
An increase in or sudden appearance of bruises
Unexplained injuries that have been unreported, such as sprains or broken bones
Malnutrition and dehydration
Poor hygiene
Dirty bed linens and clothes
Unexplained STDs
Unusual changes in behavior
Aggressive outbursts
Increased anxious behaviors
Showing fear or agitation around certain staff members
Bed sores
Self-harming or self-neglect behaviors
Sad, depressed, or withdrawn behavior
Consult an Indianapolis Nursing Home Abuse Lawyer
If you suspect your loved one is being abused in their nursing home, we are here to help. At Crossen Law Firm, our personal injury lawyers have over 20 years of experience fighting for victims of nursing home abuse. We will protect your rights and the rights of your loved one and will do everything we can to get you the settlement you deserve.
Contact us today or give us a call for a free consultation at (317) 401-8626.