Perhaps one of the most complex parts of being in an accident is knowing how to navigate the car accident settlement process. The injuries you sustained and dealing with medical treatments and recovery are challenges you will face, but dealing with the settlement process on top of managing your pain and suffering makes matters even more difficult.
At Crossen Law Firm, we understand how scary and confusing it is to navigate life after a car accident, and we are here to help. Below, we will walk you through everything you need to know concerning the car accident settlement process to help alleviate some of your concerns.
However, this is an overview. If you have been in an accident and need to file a claim for your injuries, the best way to get through the process as easily and efficiently as possible is to contact an attorney directly. They can sit down with you during a free consultation to help you determine the best course of action for your circumstances.
Contact our Indianapolis car accident lawyers today for help with your claim.
What is a Car Accident Settlement?
Indiana is an at-fault state, which means if you are injured in an accident due to another party's negligence, you can file a claim against them and their insurance company to recover compensation for the damages you have suffered. The process you will go through if you choose to file a claim is what's known as the car accident settlement process.
Specifically, a settlement is an agreement to settle a car accident that occurs between the injured victim and the negligent party (and their insurance company). This includes car damage settlement agreements and agreements concerning compensation for other damages, such as medical expenses, loss of income, emotional distress, pain and suffering, and more.
The basic concept is that the guilty party and their insurance will be asked to pay compensation to the injured victim. This demand for compensation is what leads into the settlement process until a final agreement is reached. If the parties involved cannot reach an agreement, then the case may go to trial.
How Does the Car Accident Settlement Process Work in Indiana?
Car accidents are scary, but the process of getting the compensation you need after doesn't have to be difficult. Working with a lawyer can make things go much smoother and quicker.
To help you better understand the process, we've provided a step-by-step guide below: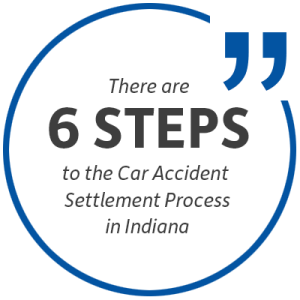 Step 1: Pre-Litigation
Before you start the settlement process, there are a few things that will need to take place. These include an investigation of the accident to determine what happened and who was at fault, gathering evidence, and documenting and calculating damages.
This is when you will first start working with a lawyer, as they can help with the investigation, obtain evidence to prove what happened, and ensure your damages are fairly calculated.
Step 2: Sending a Demand Letter
Once the investigation and other pre-litigation steps are complete, you will then need to send a demand letter requesting payment for the damages you suffered. This is an official letter that will be sent to the appropriate insurance companies, stating the amount you are owed.
Writing a demand letter is a crucial part of the settlement process. It must include specific information, such as a description of the accident, details of your injuries and other damages you suffered, and liability. The letter needs to be clear and concise, which is why it's best to work with a lawyer who can help you write it.
You can find sample settlement letters for car accident cases online if you want a clearer picture of what these letters need to look like. However, it is not advisable to write a letter on your own without professional legal assistance.
Step 3: Filing a Lawsuit
In response to the demand letter, the insurance company may do a few different things. They could accept the demands (this is rare), they could deny liability, or they could offer a counteroffer.
If an acceptable settlement offer cannot be agreed upon, then you and your lawyer will file a lawsuit. The lawsuit serves the purpose of asking the court to order the guilty party and their insurance company to meet your demands for compensation.
Step 4: Discovery
After a lawsuit has been filed, then the discovery phase will begin. During this time, both parties will share evidence and other information to prove their claim. There will also likely be a lot of questions you will have to answer for the defending party's attorney, but your lawyer will prepare you for this. Witnesses may also be called upon during this phase to give testimony about what happened.
Step 5: Settlement Negotiations
After all evidence and information have been shared, you and your attorney will enter into negotiations with the other party until a settlement is reached. Your lawyer will help you understand whether an offer is fair, but it is ultimately your decision to accept or reject the insurance company's offer.
If an agreement is reached, your lawyer will accept on your behalf and obtain a check. In some cases, this process can happen relatively quickly. However, if there are still many disagreements over the settlement amount, then it can take much longer.
Step 6: Go to Trial
If an acceptable settlement is still not reached after negotiations, then your lawyer can take your case to trial. This means the case will be held in court before a judge. Depending on the evidence and complexity of the case, a court trial can take a few days or a few weeks. Once both sides have presented their case in court, a judge will decide and render a verdict.
Filing an Appeal After the Car Accident Settlement Process
It's worth noting that a judge's decision is not necessarily final. If you or the other party still disagree with the decision, an appeal may be requested. In this situation, the case will move to the Court of Appeals. If an error was believed to have been made, meaning there are real grounds for an appeal, then your case may be filed with an appellate court.
Consult an Indianapolis Personal Injury Lawyer
At Crossen Law Firm, we have over 20 years of experience fighting for victims of car accidents in Indiana. We are prepared to walk you through the car accident settlement process and will fight tirelessly to ensure you are fully and fairly compensated for the damages you have suffered. Contact us today or give us a call for a free consultation at (317) 401-8626.