Indianapolis is the largest city in Indiana, and as such, it sees its fair share of accidents. In 2020, Marion County reported over 28,000 accidents, the highest of all the counties in the state.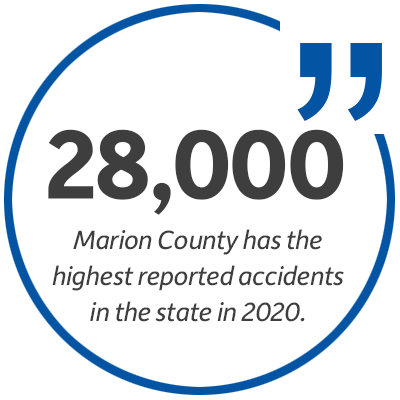 While these accidents can occur anywhere, they most often happen at intersections. City intersections are especially problematic because traffic congestion is usually higher in urban areas.
While the city is responsible for addressing intersection hazards and poor intersection design to keep drivers safe, Indiana residents can help by reporting any intersections where they notice problems.
If you are involved in a car accident at an intersection, our Indianapolis car accident attorneys at Crossen Law Firm can help.
Why Are Intersections Dangerous?
Intersections are necessary for road design as they help connect people driving, walking, or cycling from one road to another. However, having so many intersecting pathways naturally results in conflict points that can lead to accidents.
According to the US Department of Transportation, one-quarter of all traffic fatalities and one-half of all injuries occur at intersections every year. As such, intersection safety is a top priority for federal and local governments.
Still, despite continued efforts to make intersections safer, accidents happen. Drivers can help by being more mindful and cautious when driving through intersections. It also helps when residents report issues with intersections that might be missed by local municipalities.
In general, some common reasons why accidents happen more often at intersections include:
Drivers running red lights
Drivers ignoring stop signs
Drivers failing to yield the right of way
Drivers turning left in front of oncoming traffic
Drivers speeding through intersections
Drivers making a turn without checking for pedestrians or bicyclists on the roadway
The Most Dangerous Intersections in Indianapolis
There are thousands of intersections in each state, meaning there could be an exhaustive list of problematic ones. However, the following tend to stand out the most in the Indianapolis area:

38th Street & Guion Road
86th Street & Keystone Avenue
Keystone Avenue & Fall Creek Parkway
Allisonville Road & 86th/82nd Streets
21st Street & Shadeland Avenue
38th Street & Franklin Avenue
High School Road & 38th Street
Meridian Street & 38th Street
21st Street & Post Road
County Line Road & Emerson Avenue
Michigan Street & West Street
College Avenue & Washington Street
New York Street & West Street
Meridian Street & 16th Street
Maryland Street & West Street
West Street & Washington Street
How to Report Dangerous Intersections in Indiana
There are a couple of different ways you can report a dangerous intersection in Indiana:
Call the Indiana Department of Transportation (INDOT) at 855-INDOT4U (855-463-6848) to report the issue directly.
Fill out INDOT's online form.
For city or county roads, you can use this INDOT search function to find the appropriate local agency to contact.
Report the issue by calling the Mario County Mayor's Action Center at 317-327-4622 or visiting them online.
What to Do After an Intersection Accident
If you are involved in an accident at a dangerous intersection, your health and safety should be your number one priority. As such, you should first check to see if you or anyone else is injured and move yourself out of the way of oncoming traffic if possible.
Next, you should call 911 to report the incident and have them send emergency medical responders to address the injuries. If you are able, it is also beneficial to take photos of the accident scene and your injuries, as this can help should you decide to file a personal injury claim.
People who witnessed the accident can also be helpful. Get their contact information if you can so they can be called upon to give a statement about what happened if needed.
After your injuries have been addressed, you should report the accident to your insurance company and contact a local Indiana personal injury attorney. An attorney can help you file a claim and ensure you get the compensation you need to cover your losses, such as your medical bills.
Consult an Indianapolis Personal Injury Lawyer
At Crossen Law Firm, we have over 20 years of experience fighting for car accident victims. If you've been injured in an accident at a dangerous intersection, we can help. Our team will protect your rights, investigate the accident, help you obtain evidence to support your claim, and ensure you are awarded the fair settlement you deserve.
Contact us today or give us a call for a free consultation at (317) 401-8626