When you are injured in an accident and want to file a claim, there are various steps, including the discovery phase of the settlement process. This includes pre-litigation, sending a demand letter, and filing a lawsuit.
Another important phase in the process is the discovery phase, which is used by parties on both sides (the plaintiff and the defendant) to gain information and provide important evidence that can help with the case.
At Crossen Law Firm, we can help guide you through the entire claim process, including the discovery phase, to ensure the best possible outcome for your case. Our team of Indiana personal injury lawyers will fight tirelessly to get you the compensation you deserve.
What is the Discovery Phase of a Lawsuit?
In some cases, the insurance company involved in your case may accept your demands for compensation, which means it may not be necessary to move forward with a lawsuit. However, if your demands are not met, then you may need to take civil action, which will then lead to the discovery phase.
This phase serves the purpose of allowing both parties to provide any evidence or gain any information necessary to prove their claim. For example, if the insurance company initially denied your demands, you and your lawyer would use the discovery phase to provide evidence that proves you are owed the amount you are demanding.
There are four steps involved in the discovery phase process: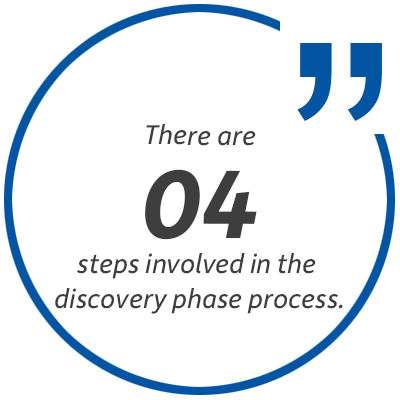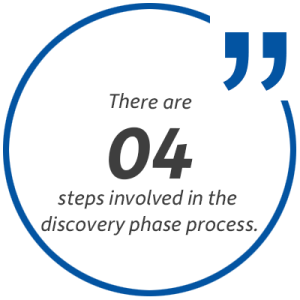 Interrogatories: These are questions both parties can ask the opposing party to gain information about the case. The point of this step is to gather important facts, such as the names and contact information for witnesses, insurance information, description of injuries, and medical treatments received. This information can then be used as evidence.
Request for Production: This is another way of saying a request for documents related to the case. These can include police reports, copies of insurance policies, receipts or medical bills, eyewitness statements, photographs or video footage from the accident, etc.
Request for Admission: During the discovery phase, you can also petition or be petitioned for admission of facts. This means sending the other party a series of facts to which they have to respond by saying whether the fact is true or false. This helps to reduce the number of things that must be proven during trial. If a party admits to speeding when petitioned for admission of facts, for example, there is no need to prove they were speeding during trial.
Deposition: Depositions are essentially sworn statements that are made under oath but occur outside of the courtroom. Either party can request depositions to use later as evidence in court. Depositions, for example, can be requested early on before the involved parties forget important details about what happened, such as an account of the details of the accident.
How Long is the Discovery Phase in a Lawsuit?
There is no average time for the discovery phase. Each case is unique and how long the process takes can vary depending on the individual circumstances. In some cases, the discovery phase might only take a couple of weeks, whereas in other cases, it could take months.
You mustn't rush through the discovery phase. This step in the claims process plays a vital role in helping you and your lawyer build a strong case against the opposing party. If the insurance company is denying your claim, for example, or refusing to pay you what you are owed, you will want to use the discovery phase to your benefit to gain as much information as possible.
An experienced lawyer will be able to walk you through this process and help you understand what will be required of you to ensure the best possible outcome.
What Happens After the Discovery Phase in a Lawsuit?
After the discovery phase, you will enter into settlement negotiations. This is when you and the other party will use all of the evidence and information gained in the discovery phase to come up with a fair settlement. During this step, your lawyer will help you understand when an offer is fair and when it isn't.
If you agree on a settlement, then your lawyer can accept the offer on your behalf and obtain a check for the agreed amount. However, you and the other party might still fail to reach an agreement. If so, then your case may need to proceed to trial, which can extend the timeline of your case even further.
This is why the discovery phase is so important. If enough evidence is provided and sufficient information is gained, then it may be easier to reach an agreement without taking the case to trial.
Consult an Indianapolis Rear-End Collision Lawyer
At Crossen Law Firm, we have over 20 years of experience fighting for victims of car accidents in Indiana. We are prepared to walk you through the car accident settlement process, including the discovery phase, and will fight tirelessly to ensure you are fully and fairly compensated for the damages you have suffered.
Contact us today or give us a call for a free consultation at (317) 401-8626.