Back pain is a frustrating and challenging reality for many motorcycle accident victims. When you are in pain because of an injury from a motorcycle accident, it is difficult to go about your daily activities or enjoy your life. Travel, work, and spending time with family and friends can be almost unbearable when you suffer from back pain.
An important question that we hear from our clients is, "Can I sue for the back pain caused by my motorcycle accident?"
The answer is almost always yes if the person, entity, or organization that caused your pain acted negligently. If so, you deserve compensation for your pain and damages. That certainly includes back pain.
Causes of Back Pain After a Motorcycle Accident
Your doctor can help to diagnose a specific type of back pain. There are several ways that your back can be injured in a motorcycle accident, and each one may require a different treatment plan. No matter the injury, all of these can potentially interrupt your life and cause you significant harm.
Spinal Injuries
Spinal cord injuries are severe. The spinal cord relays nerve signals to and from the brain and all other parts of the body, which means that spinal cord damage can cause major functioning problems throughout the body.
Spinal injuries may cause:
Partial and complete paralysis
Numbness
Tingling in the fingers, toes, and extremities
Unusual sensations in the body
Back pain
Spinal injuries require intense, ongoing medical care which may include surgeries, physical and occupational therapy, hospital stays, pain medication, and the use of mobility devices.
Spinal Stenosis
Can an accident cause spinal stenosis? While spinal stenosis is more commonly associated with chronic conditions such as arthritis, injuries from a car accident can also lead to the ailment.
Spinal stenosis occurs when the spinal column shifts out of alignment, narrowing the spinal canal. This, in turn, compresses the nerves in your back, causing pain, suffering, and even disability.
The symptoms of spinal stenosis may be delayed in their onset, as opposed to being immediately obvious from the moment of the accident. Symptoms may include:
Body numbness
Stiffness, cramping, and pain in the back and neck, as well as the shoulders, arms, thighs, buttocks, and calves
Limb weakness
Difficulty walking
Loss of bladder or bowel control
Ongoing treatment of spinal stenosis may include medications (including prescription pain meds and anti-inflammatories), physical and occupational therapy, surgery, steroid injections, chiropractic treatment, acupuncture, and mobility aids.
Additional Causes of Back Pain After a Bike Accident
You may also experience any of the following:
Fractured vertebrae
Muscle strains and sprains
Ligament damage
Whiplash
Suing for Damages–Including Back Pain
Motorcycle accidents can be traumatic. A motorcycle crash injury can change your whole life.
The good news is that motorcyclists like you can file a claim to recover compensation for their losses. This section will provide an overview of what you need to know about filing a claim for damages after a motorcycle accident.
What Kind of Negligent Behavior Can Cause a Motorcycle Accident?
These are some of the negligent actions that could cause you to be injured in an accident:
Distracted driving, which includes texting, eating, and any other activity that takes the driver's attention from the road for any amount of time.
Driving under the influence of alcohol or drugs.
Failing to check blind spots. Drivers of cars and semi-trucks are notoriously bad at checking their blind spots for motorcyclists before turning or changing lanes.
Speeding, which is one of the most common causes of fatal and serious accidents.
Running a red light.
Road rage.
Although these are the most common ways drivers may be negligent and injure a motorcyclist, this list is not comprehensive. If you believe the driver who injured you was negligent, please contact a motorcycle accident attorney to discuss your case.
What Damages Can Be Covered by a Claim or Lawsuit?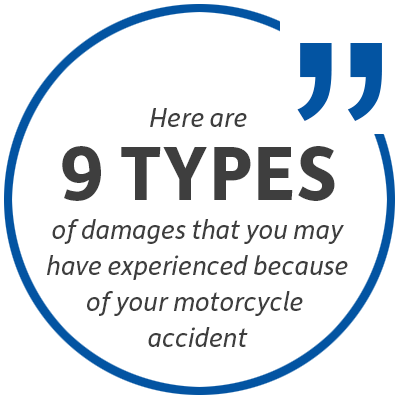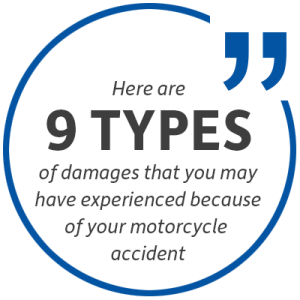 There are a variety of damages that you may have experienced because of your motorcycle accident, including (but not limited to) the following:
Medical bills
Rehabilitation
Hospital stays
Emotional distress
Lost wages
Future loss of income
Property damage
How Much Compensation Can You Get for Your Injuries and Losses?
The answer to that question depends upon several factors, including the details of your crash, the actions of the other driver, and the extent of your injuries.
Keep in mind that the insurance company will always offer you as little as they can, especially at the beginning of negotiations. If you retain the services of a personal injury attorney familiar with motorcycle accidents and Indiana law, you will dramatically increase your chances of a settlement or court award that covers your losses.
Indiana's minimum insurance coverage for liability insurance is as follows:
$25k bodily injury for one person in one accident
$50k bodily injury total for any one accident that involved more than one person on the claim
$10k in property damage
Unfortunately, this is rarely enough to cover the real costs of an accident, which is why you likely need a motorcycle accident attorney to fight for you and your rights.
Crossen Law Firm: Our Indianapolis Motorcycle Accident Lawyers Will Fight for You
If you are suffering from a motorcycle injury, you are likely overwhelmed and struggling. There are financial losses, emotional stressors, and painful injuries to concern yourself with–and the idea of trying to get compensation may seem like something else you just can't handle right now.
Let Crossen Law Firm in Indianapolis fight for you. There is no reason for you to have to do this alone!

Our motorcycle accident lawyers are equipped with the knowledge, resources, and experience necessary to help you with your claim, advocate for your best interests, and help you get back on the path to recovery.
To schedule a free consultation with our reliable team, call (317) 401-8626 today. Or contact us online.