Previously, our blog discussed the tragic patient deaths and unthinkable events that transpired at the Praxis Landmark Recovery, a male-only addiction facility in South Bend, Indiana.
Three patients died while under the facility's care from July 3rd to July 9th. Additionally, the South Bend police reported that the facility was plagued by violent crime and other events that endangered patients' lives, including nine overdoses, a stabbing, two rapes, and a sexual assault.
Praxis Landmark Recovery is now under investigation and is facing multiple lawsuits from former patients and their families. If you or a loved one suffered due to Landmark Recovery's negligence, you can file a lawsuit against the facility to recover losses.
Here we are sharing the most recent updates in the Praxis Landmark Recovery case and how to regain compensation. Additionally, you can learn more about what steps to take against Landmark Recovery by contacting the Indiana wrongful death and medical malpractice attorneys at Crossen Law Firm.
The Praxis Landmark Recovery's Rescinded License
With the many harrowing details surrounding Praxis Landmark Recovery, it's no surprise that its license to treat patients was revoked. At the end of July — a few weeks after the three victims passed away — Indiana's Division of Mental Health and Addiction (DMHA) gave an emergency order to nullify Landmark Recovery's license.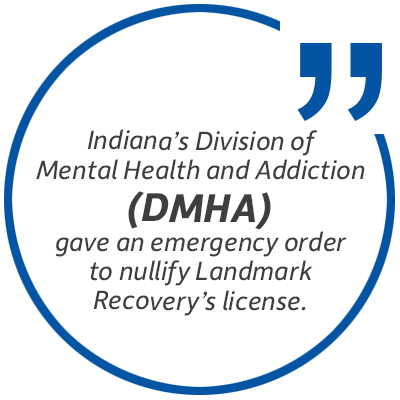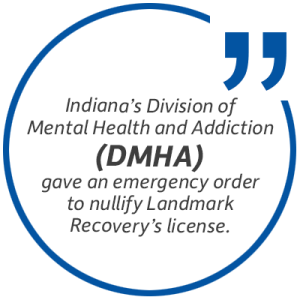 DMHA cited that the facility had failed to report serious events involving the police and that they neglected to report patient deaths promptly. While two victims died between July 3rd and 4th, the facility didn't report the deaths until July 6th. Further, the facility didn't report the death that occurred on July 9th until July 11th. This delay breaks a statute that requires medical facilities to report patient deaths within one business day.
The order to revoke Landmark Recovery's license also cited the facility's blatant negligence in monitoring one of the deceased leading up to his death. The facility was supposed to check in on the patient every 15 minutes, but Landmark Recovery's staff allegedly only checked in on him four times over the course of two days.
The strange incidents also led the St. Joseph County coroner's office to a court motion against Praxis Landmark Recovery. The motion demanded that Landmark Recovery release surveillance footage pertinent to the victims' deaths. The judge approved the motion and ordered the facility to release the footage. The videos aren't available to the public at this time.
Praxis Landmark Recovery's Attempt to Reopen
Although trouble for the Praxis Landmark Recovery continues to mount, including lawsuits and at least 97 former patients who were victimized, the facility requested for Judge Wendy Messer to restore its license. The facility noted that it would be unable to care for its remaining patients due to the closure, and it would also create financial strain for Praxis Landmark Recovery's employees.
The administrative law judge denied Landmark Recovery's request and stated that the facility can't reopen while it undergoes legal proceedings. She also noted that while local access to addiction treatment is critical, facilities must be safe.
Right now, it's unclear whether the Praxis Landmark Recovery of South Bend will ever regain its license. The facility's future will depend on the results of the court proceedings.
Recovering Compensation from Praxis Landmark Recovery
If you were victimized by Praxis Landmark Recovery due to its negligence and unsafe facility conditions, you can file a lawsuit to recover compensation. You also have the right to a wrongful death lawsuit if a member of your family died while in Landmark Recovery's care.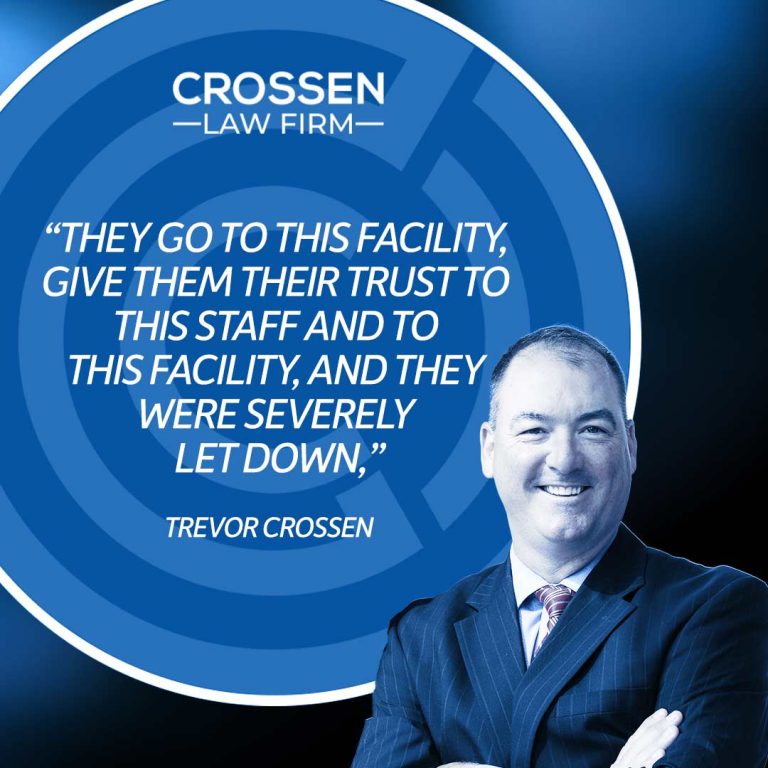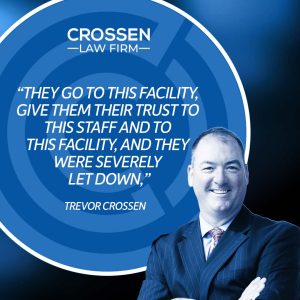 Praxis Landmark Recovery's negligence may fall under what's known as medical malpractice, meaning when a healthcare professional or facility fails to provide patients with sufficient medical care. If you suffered injury due to Landmark Recovery's negligence or deliberate wrongdoing, you may be able to recover compensation for:
Past and future medical bills
Pain and suffering
Emotional distress
Lost wages
Loss of future earnings
Compensation for legal expenses
If you lost a loved one due to medical malpractice, you may be able to recoup money for:
Funeral and burial costs
Estate fees
Medical bills leading up to the victim's death
Loss of a parent
Loss of consortium
Lost wages and potential wages
Compensation for legal expenses
Call an Indianapolis Wrongful Death Lawyer Today
Crossen Law Firm is representing victims who were formerly patients at Praxis Landmark Recovery. If you lost a loved one or suffered harm due to Landmark Recovery's negligence, please contact us today.
Our firm is working diligently to hold Praxis Landmark Recovery accountable for its wrongdoing, and we'll work to recover you the most money possible. Call us today at 317-401-8626, or you can contact us online here.