It is common knowledge that it is dangerous to text and drive. Logically, any distraction is bound to have serious repercussions when drivers attempt to maneuver 4,000-pound vehicles next to other cars that may or may not also have distracted drivers. Unfortunately, knowledge of risks is needed when it comes to actually changing behavior. While 96% of drivers recently surveyed by AAA agreed that texting and driving is unsafe, 39% of those same people admitted to having read an email or text while driving in the preceding month.
Even worse, 29% of the survey takers said that they had written an email or text while driving. Why would they do this? Many people overestimate their ability to multitask or to take quick evasive action. They may convince themselves that texting "just this once" will be fine or that taking a quick glance at an incoming message will be safe. They are wrong.
There are 3 types of distracted driving:
Cognitive distraction is anything that takes your mind off the road.
Visual distraction is anything that takes your eyes off the road.
Manual distraction is anything that takes your hands off the wheel.
As you can see, texting, emailing, typing in addresses, checking social media, or even Facetiming, include all three types of distracted driving as they all necessitate (at the very least) picking up a cell phone and looking at it.
Distracted Driving Accidents: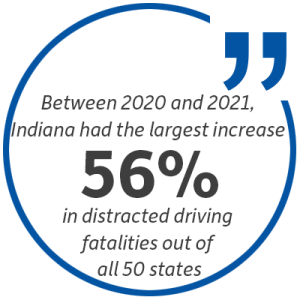 According to the NHTSA (National Highway Traffic Safety Administration), 3,522 people lost their lives in driving accidents caused by distracted driving in 2021. This is an increase over the figures from 2020 (3,142) and 2019 (3,119).
Indiana drivers covered 155,248 million miles between 2020 and 2021. Distracted driving accidents caused 100 deaths in that period, resulting in a ranking of 29 out of all 50 states.
Unfortunately, our statistics are getting worse. Between 2020 and 2021, Indiana had the largest increase (56%) in distracted driving fatalities out of all 50 states.
Indiana Laws:
Indiana attempted to address the problem of text and drive accidents in 2011 when it passed a law making texting and driving illegal. This law proved too narrow and did not reduce the number of distracted driving accidents; it became evident that drivers can be distracted by various activities on their cell phones that aren't necessarily texting.
Indiana passed a hands-free law that went into effect on July 1, 2020 (Indiana Code §9-21-8-59). This law prohibited using any handheld communication device (such as a smartphone, tablet, or smartwatch) while driving. This doesn't mean drivers can't take phone calls or use GPS for directions. It simply means that drivers must use Bluetooth, a headset, a speakerphone, an earpiece, or other hands-free technology. The only exception to this is when a driver needs to call 911 in an emergency.
Penalties for Texting While Driving
Drivers who hold a mobile device in their hand while driving (this includes when stopped at red lights) can be charged with a Class C infraction and fined up to $500. In addition, since July 29, 2021, drivers can also have penalty points assessed against their licenses.
Crossen Law Firm: Protecting Your Rights After a Distracted Driving Accident
If you or a loved one have been injured in a texting and driving accident, you will benefit from working with an experienced car accident attorney.
Let Crossen Law Firm handle the fight for compensation. With over 20 years of experience and millions of dollars awarded in compensation to our clients, our Indianapolis personal injury lawyers understand how to best help you obtain a favorable outcome for your situation. We can gather evidence to help prove that the other driver was at fault, deal with insurance companies for you, take the paperwork off your hands, and ensure you receive a fair settlement.

Get started on your case today by scheduling a free consultation about your situation.

Call 317-401-8626 or contact us online.