Cycling is more than just a leisurely activity. Today, thousands of people across the U.S. also use their bikes for commuting. Unfortunately, as the number of bikes on the roads has increased, so, too have cycling accidents.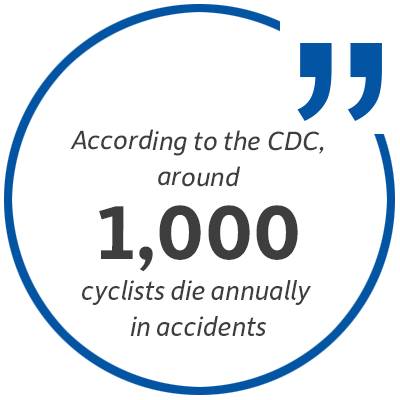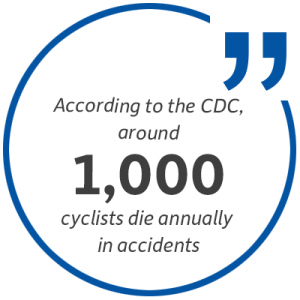 According to the CDC, around 1,000 cyclists die annually in accidents and over 130,000 are injured. On average, this leads to around $23 billion in costs for things like medical care, lost work productivity, and lost quality of life.
Some of the most common cycling injuries reported are head injuries due to the lack of helmet use. Wearing a helmet is crucial when riding a bike, no matter where you are riding. However, head injuries are not the only concern.
In this article, we'll look closely at cycling accidents and the common cycling injuries that occur. If you or a loved one have been injured in an Indiana cycling accident and need help with a case, don't hesitate to reach out to us at the Crossen Law Firm for assistance.
Common Causes of Cycling Accidents
Though cyclists can undoubtedly cause their own accidents, a significant amount of cycling accidents are caused by car drivers. Some of the most common reasons drivers cause accidents with cyclists include:
Failing to share the road
Failing to yield the right of way
Turning directly into the path of cyclists
Not looking for cyclists before making turns
Speeding
Driving in the bike lane
Distracted driving
Opening car doors into the path of cyclists
Driving while under the influence of alcohol
It's important to understand that both drivers and cyclists have traffic laws they must follow. Unfortunately, many drivers do not obey these laws where cyclists are concerned. It's not uncommon for drivers to get frustrated when having to share the road with cyclists, but cyclists are allowed to ride on the road, and they are to be treated like any other motorist on the roadway.
What Are the Most Common Cycling Injuries?
Every bicycle accident is unique. Depending on the circumstances — such as how the cyclist was hit, how fast the car was driving, what condition the cyclist was in before being hit, and whether or not the cyclist was wearing a helmet — there is any number of injuries that could occur.
That said, there are a few injuries that are seen most often in cycling crashes. These common cycling injuries include:
Head injuries: Traumatic brain injuries and skull fractures are the most commonly occurring cycling injuries. Unfortunately, these are also the most deadly cycling injuries. This is why it is vital that all cyclists wear a helmet.
Leg, pelvis, and hip injuries: Lower body injuries are also prevalent in cycling accidents. Cars can directly hit a cyclist and even run them over, which can cause severe crush injuries and damage to the lower body, such as hip and leg fractures or a crushed pelvis.
Hand, wrist, and elbow injuries: These injuries often occur when a cyclist is hit and puts their arms out to stop themselves from falling to the ground. Unfortunately, in many cases, the force of the impact is too hard, which results in wounds and broken bones in the hands, wrists, or elbows.
Facial injuries: When a cyclist is hit, they can hit their face on their bike, on the car that hit them, or on the pavement when they fall. This can lead to some severe and even disfiguring facial injuries, such as broken noses and jaws, eye injuries, and dental injuries.
Road rash: If a cyclist falls from their bike and skids along the pavement, they can also sustain a type of injury known as road rash. When the skin drags against a hard, rough surface, it's similar to a burn injury and can result in very painful abrasions, and the skin can even be torn away.
Strains and sprains: Soft tissue injuries are also prevalent in cycling accidents. For example, it's quite common for riders to experience sore muscles after a bike accident, which could be a sign that they have strained or even sprained the muscles, tendons, or ligaments in the affected area.
Emotional Trauma After a Bike Accident
Though physical injuries are often the focus with regard to cycling accidents, it is also possible for the injured victim to sustain psychological injuries or emotional trauma. Though these kinds of injuries can't be seen, they can be just as damaging to a person as a physical injury.
Many cyclists experience trauma after an accident that can result in symptoms of PTSD, for example, which can affect their day-to-day life. As such, just as you can recover compensation for a physical injury, you can also file a claim to recover financial compensation for emotional distress and psychological trauma as well.
What to Do if You Sustain a Cycling Injury in an Accident
The steps you take after being injured in a cycling accident will play an essential role in your case and the compensation you can recover. Indiana is an at-fault state, so if a driver was at fault for your accident, you could file a claim against them to recover compensation for your damages, such as your injuries and loss of income while recovering.
However, you must still be able to provide enough evidence to show what happened and that another driver is, in fact, the one responsible for what happened. To ensure you have the evidence you need, make sure you follow these steps after being in an accident:
Call the police and ensure an official report is filed for the accident.
Request emergency medical assistance when you call 911 or seek medical attention as soon as possible following the accident.
Keep copies of all medical documents proving you were injured and what treatments you received.
While at the accident scene, take photos or videos of the crash, the damage, and your injuries, if possible.
If there were witnesses, get their contact information so they can be called on to give a statement.
Get the information of the driver who hit you, such as name, contact information, and license number.
Contact a lawyer after the accident for help with your claim.
Consult an Indianapolis Personal Injury Lawyer
If you were injured in a cycling accident, you will need to build a strong case against the driver that hit you to ensure you are fully and fairly compensated for all that you have suffered. Our team of experienced Indianapolis bicycle accident lawyers can help.
At Crossen Law Firm, we have over 20 years of experience fighting for victims of cycling accidents and are dedicated to working tirelessly to get you the compensation you deserve.
Contact us today or give us a call for a free consultation at (317) 401-8626.