Many people feel confused as they read through their Indiana car accident reports. Although a crash report starts with basic information like the time and date of the crash, the rest is much more complicated to understand.
In this article, Crossen Law Firm explains how to read Indiana accident reports and which details could impact your personal injury case. We'll also share the important steps to take after reading your Indiana crash report.
How to Read an Accident Report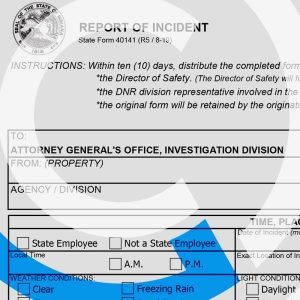 The Indiana State Police maintain a database of all Indiana accident reports for accidents that happen in the state. You can request a copy of your crash report online for a fee or you can work with your car accident lawyer to obtain a copy as part of your personal injury case.
The first section of the report lists the date and time of the crash, city, county, township, number of people injured/killed, and the road or interchange where it happened. This portion of the report also clarifies who will be considered Driver #1, #2, and so forth in the report.
The next section contains a grid where the responding police officer can use check marks to capture a wide variety of circumstances regarding the crash. The grid indicates whether alcohol could be involved, if someone was speeding, any mechanical failures the drivers experienced, what kind of environmental conditions could have impacted the accident, and much more.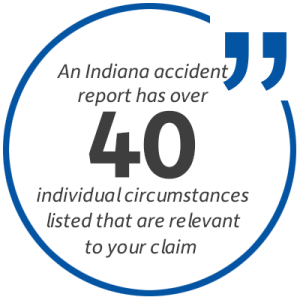 There are more than 40 individual circumstances listed in this section and any of them could be relevant to a personal injury claim. If the officer indicates that the other driver was using their cell phone just before the accident, for example, they may be liable for the crash due to their distracted driving.
An "area information" section of the report allows the officer to make notes about road features and zones that might be relevant to your accident. For example, it gives space to write information about road surface conditions like puddles or debris, and the officer can note whether a nearby school zone calls for a lower speed limit.
Below these sections, the officer is asked to estimate the amount of damage in the crash, including damage to nearby property. There is also a box for witness and participant contact information.
The next page in the report leaves a large space for the officer's handwritten narrative of what happened in the crash. Keep in mind that this is just the officer's impression because they weren't present when the accident happened. The officer uses their best judgment and may incorporate witness statements or other information into their account, but their report could include omissions or errors.
The report's next page lists the drivers' personal information, as well as the type and location of damages to their vehicles. There is room for the officer to describe the actions each driver took just before the crash and whether there are any special circumstances, like a vehicle carrying hazardous materials.
Steps to Take After Reading Your Indiana Crash Report
Indiana accident reports often bring up more questions than they answer. You might read your report and think, "That's not what happened at all!" Alternatively, you might generally agree with the crash report but feel it's missing important details. Here's what to do next.
Seek Legal Representation
Contact your Indiana car accident lawyer as soon as possible to discuss your crash report. Choose a lawyer with extensive experience handling cases like yours and an outstanding reputation for maximizing case values and positive outcomes for their clients.
Stay Quiet In-Person and Online
Don't share details about your crash with anyone until you speak to your lawyer first. This includes not discussing it with friends, family members, social media followers, the other people involved in the crash, or insurance representatives who contact you.
Don't Accept a Fast Insurance Offer
Insurance companies often make low offers quickly, before injured people have a chance to carefully weigh their options. Don't agree to anything until you discuss your crash report and other details with your lawyer. You could be entitled to high-value compensation that fully covers your medical bills, rehabilitation costs, missed days of work, emotional distress, and much more.
Questions About Indiana Accident Reports? Ask Crossen Law Firm
After a car crash, talk to an Indiana personal injury lawyer about how to read an accident report and how it could impact your accident claim. Indiana crash reports can be confusing, so turn to Crossen Law Firm for clarifications and insights into the law.
Contact us at 317-401-8626 to learn more about your legal options and we'll offer you a free consultation. We have extensive experience with a wide variety of Indiana auto accident claims, and our priority is always to help you secure the compensation you deserve.