It takes time to heal from a car accident, but you don't have endless time to start legal action. So, how long after car accidents can you claim injury? Indiana places a time limit on car accident injury claims, so act fast to preserve your chance at valuable compensation.
This article explains what you need to know about making car accident claims in Indiana, applicable deadlines, and limitations that could apply to your situation.
What is a Car Accident Injury Claim?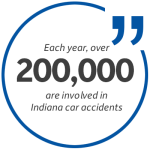 A car accident injury claim is a type of legal action that helps cover losses and injuries from an accident. More than 200,000 people are involved in Indiana car accidents every year and thousands file personal injury claims to help handle the costs.
As an injured person, you can secure compensation for many types of damages including:
Past and future medical expenses
Lost wages and earning capacity
Damages to your car and personal property
Cost of in-home assistance
Emotional anguish
Impairment and disfigurement
Reduced quality of life and loss of physical intimacy
Most people choose to work with a car accident lawyer to make the process as smooth and effective as possible. Research shows that hiring a lawyer to help with a car accident claim is an important step that increases your odds of a positive result.
How Long After Car Accidents Can You Claim Injury?
Start the personal injury claim process right away. It's a myth that you have the luxury of taking your time on a car accident claim.


Indiana's deadline, also known as the statute of limitations, is within two years of the date of a car accident. You must either arrange a settlement or start a lawsuit within that timeframe or you'll lose your chance forever. If your claim involves a government vehicle or agency, the time limit could be as short as 270 days from the accident.
Your claim will likely be dismissed if you don't meet the legal deadline. There are just a few exceptions to the statute allowing an extension of the timeline. If you were under the age of 18 or mentally incapacitated, the deadline may be extended. You may also receive an extension if the person who hurt you left the state or attempted to conceal their identity, making it difficult for you to track them down.
It's always wise to file a case as quickly as possible after an Indianapolis auto accident. Give yourself and your lawyer as much time as possible to gather the evidence and build a strong case before crucial information is misplaced, destroyed, or forgotten by witnesses.
Are There Limits on Car Accident Injury Claims?
An Indiana car accident personal injury claim can not exceed certain limits as outlined below. Consider these caps before starting your car accident injury claim.
Government claims
If the defendant is part of a government agency, your claim against them will be capped at $700,000. As you can see, this is still a substantial amount, so it's probably still worthwhile to pursue your case against a government worker who hurts you in a car accident.
Wrongful death
A claim involving a wrongful death in a car accident is limited to $300,000 if the deceased person is unmarried, aged 23 or older, and has no dependents.
Punitive damages
Punitive damages are usually awarded only in cases of gross negligence as a way of punishing the offender. A punitive award is limited to $50,000 or 3 times the total of your economic/noneconomic damages, whichever is higher.
Finally, keep in mind that your pain and suffering damages are noneconomic damages that would be factored into the amounts above. The psychological trauma you've experienced in the period since your accident deserves adequate compensation, so give proper value to it as you and your lawyer work together to maximize your auto accident settlement.
Contact the Injury Claim Lawyers at Crossen Law Firm ASAP
Don't delay because timing matters in auto accident cases. Crossen Law Firm has a strong reputation for securing compensation for Indianapolis car accident survivors, with $1 million to $4 million-plus awards for our clients.
Call 317-401-8626 to request a free consultation with an Indianapolis car accident lawyer. We're here to help you stand up for your rights and seek the compensation you deserve for your car accident injuries.