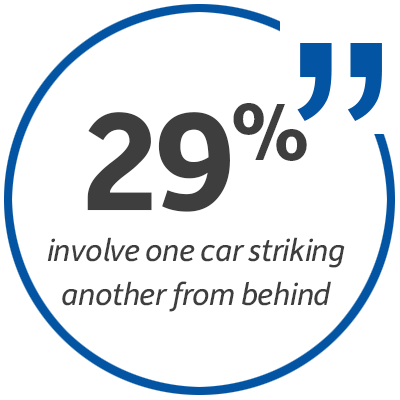 If you have a car accident today, there's almost a 1 in 3 chance that it will be a rear end collision. Research from the National Highway Traffic Administration shows approximately 29% of all auto accidents involve one car striking another from behind.
These crashes frequently happen when cars are accelerating and decelerating in heavy traffic, even at low speeds. When one driver doesn't stop in time, the other driver experiences a sudden car crash from behind.
Rear end collisions at highway speeds can be even more dangerous. A ten-year study by the Insurance Information Institute found that in 7% of highway rear end collisions, there is at least one death. Determining legal liability in these complex accidents can be extremely challenging.
In this article, we'll explain how to understand who's at fault in a rear end collision. We'll also look at how Indiana's laws may impact your ability to claim compensation.
How Do I Know Who's at Fault in a Rear End Collision?
In the aftermath of an auto accident, determining rear end collision fault isn't always as clear-cut as it seems. Although some people assume the rear driver is always at fault, that's not necessarily the case. It depends on the circumstances of the accident.
Everyone on Indiana roads owes their fellow drivers a duty of care which requires them to remain vigilant and drive safely. If one driver stops suddenly due to distracted driving, drunk driving, drugged driving, drowsy driving, or another type of negligent behavior, the person who hits them from behind might not be at fault.
The front driver may also be at fault if they were speeding, tailgating, driving aggressively, or exhibiting road rage just before the accident. The Indiana State Police are reporting a steady rise in road rage incidents since 2018.
In some cases, a pedestrian, a bicyclist, or someone else on the road can be assigned partial or total responsibility for a rear end crash. Imagine a situation where a pedestrian darts out into the road and causes one car to rear end another. The pedestrian might be 50% at fault or even 100% at fault for a crash like this.
In Indiana, car accident cases follow the 51% comparative negligence rule. You can file a personal injury claim as long as you are less than 51% at fault for the accident. Your award will be reduced by your share of the blame, meaning you can still claim considerable compensation for your injuries and losses from the accident.
How to Win a Rear End Collision Case in Indiana
Before initiating legal action, ensure your car accident claim falls within the legal deadline, also known as the statute of limitations. In Indiana, you have two years from the date of the accident and quick action prevents vital evidence from being lost or forgotten.
Speak to a lawyer before giving any detailed statements about the accident or agreeing to anything with the insurance company. People who work with personal injury attorneys typically receive 2 to 3 times more money than those who handle their legal cases alone due to the expertise and experience of their lawyers.
The overall likelihood of winning your claim comes from factors like the strength of the evidence, your medical bills, and how effective your lawyer is at helping you assemble a strong case. Establishing fault goes hand-in-hand with this process, so work with your lawyer to make a clear case minimizing your level of fault and showing you're a responsible driver. The most common outcome is a settlement that satisfies all parties.
Never assume your rear end collision is too minor to claim compensation. Even in a minor car accident, like a 5 mph rear end collision, you can pursue an accident claim to cover your damages and stay on the road to recovery.
Who's at Fault in a Rear End Collision? Ask Crossen Law Firm
Talk to an Indiana personal injury lawyer about establishing who's at fault in your rear end collision. Contact Crossen Law Firm now, before time passes and evidence is lost. We'll help you investigate the accident and organize your case to make it as strong as possible.
Contact us at 317-401-8626 to learn more about your legal options, and we'll offer you a free consultation. We have extensive experience with rear end collision cases, and our priority is always to help you secure the compensation you deserve so you can focus on recovering from your accident.