Despite being tucked away in the Midwest, Indiana is home to some of the most dangerous roads in the country. And Indianapolis traffic accidents today seem to be getting worse. The traffic can be especially problematic the closer you get to the larger cities, such as the cities in Marion County. Even Blackford County accidents can be an issue, as it's located right between Indianapolis and Fort Wayne.
To help you stay safe, we've compiled a list of some of the most dangerous roads in Indiana. The best way to protect yourself is to be aware of the most dangerous areas and to practice defensive driving when on these roads.
At Crossen Law Firm, we truly care about our clients. We have been helping the residents of Indianapolis and the surrounding areas for years with their car accident claims. If you're injured in an Indiana car accident, don't hesitate to contact us for assistance.
The Most Dangerous Road in Indiana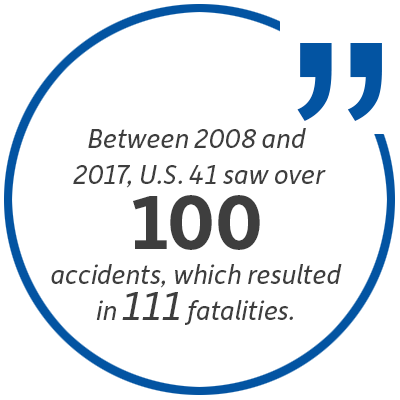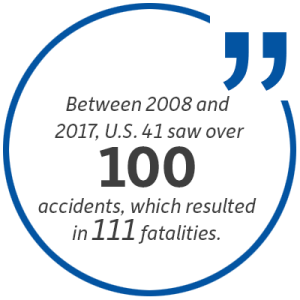 Despite the efforts of the Indiana Department of Transportation, there are still countless accidents every year in Marion County and the surrounding areas. Fatal accidents on I-69 today in Indiana are particularly an issue, likely because this stretch of highway runs right through the middle of Indianapolis and connects it to other major cities, such as Fort Wayne, Bloomington, and Evansville farther south.
However, despite the attention that I-69 gets, research shows that U.S. 41 is actually the most dangerous road in Indiana. Between 2008 and 2017, U.S. 41 saw over 100 accidents, which resulted in 111 fatalities.
Other Dangerous Roads to Watch Out For
In addition to I-69 and U.S. 41, several other roads have earned the title of "most dangerous roads" in the state of Indiana based on data collected from 2018 to 2020. These include:
38th St. from N. Hawthorne Ln. to Cornelius Ave. in Indianapolis: 10 fatal accidents / 2.1 crashes per mile
I-80 W from Exit 9 to Exit 3 in Hammond/Gary: 8 fatal accidents / 1.8 crashes per mile
Madison Ave. from E. Murray St. to Lisa Walk Dr. in Homecroft/Indianapolis: 6 fatal accidents / 1.3 crashes per mile
Shadeland Ave. from E. 21st St. to Mill View Dr. in Lawrence/Indianapolis: 6 fatal accidents / 2.2 crashes per mile
E. 21st St. from N. Audubon Rd. to Snead Cir. in Indianapolis: 5 fatal accidents / 1.0 crashes per mile
I-65 from Exit 9 to Exit 5 across Clarksville/Jeffersonville/Sellersburg: 5 fatal accidents / 1.1 crashes per mile
E. 30th St. from Bavarian Dr. to N. Bolton Ave. in Indianapolis: 5 fatal accidents / 1.2 crashes per mile
I-30 W. from Tower Rd. to W. 600 N. in Valparaiso: 4 fatal accidents / 0.8 crashes per mile
W. Dunes Hwy. from Furnessville Rd. to N. Mineral Springs Rd. in Chesterton/Porter: 4 fatal accidents / 1.4 crashes per mile
How to Protect Yourself After an Accident in Indiana
Numerous things can cause a road to be dangerous and see more accidents, such as lack of maintenance, poor road or intersection design, and traffic congestion. However, it is often the behaviors of drivers in the area that contribute to higher rates of traffic accidents.
As such, it's important to practice safer driving habits to avoid accidents on these roads, such as:
Taking care during times of reduced visibility (i.e., dusk, night time, rain/snow/fog)
Driving defensively (keeping an eye out and staying prepared for other bad drivers)
Paying strict attention to all road signs and traffic lights
Watching for pedestrians or bicyclists
Slowing down at intersections
Avoiding driving distractions
Always coming to a full stop at red lights and stop signs
Using turn signals any time you need to indicate a turn
If you do get into an accident, you can protect yourself by working with a lawyer. The damages you sustain in a severe accident on a dangerous road can severely impact your life, but a lawyer can help.
By working with an attorney, you can successfully bring a claim against another driver for compensation, which can be awarded for:
Medical expenses
Lost wages
Property damage
Physical pain & suffering
And more
An experienced lawyer in your area will be familiar with the most dangerous roads in Indiana and how to handle claims for accidents that occur in these locations. But most importantly, they will be able to help you build a strong case so you can be fully and fairly compensated for all that you have suffered.
Consult an Indianapolis Personal Injury Lawyer
At Crossen Law Firm, we have over 20 years of experience fighting for car accident victims. If you've been injured in an accident on one of Indiana's most dangerous roads, we can help. Our team will protect your rights, investigate the accident, help you obtain evidence to support your claim, and ensure you are awarded the fair settlement you deserve.
Contact us today or give us a call for a free consultation at (317) 401-8626.